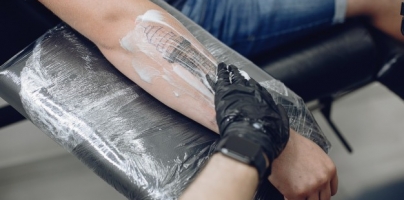 18 maja 2023
How long to lubricate a fresh tattoo?
How long to lubricate a fresh tattoo? In fact, the longer the better. It is important to remember that a tattoo requires care not only freshly after it is made. Also all the time after it has healed. If we don't take care of the tattoo, over time it begins to fade and the colors lose their saturation. Of course, the most important period is about a month after leaving the tattoo parlor. These are crucial for its final effect. However, if you want to enjoy your tattoo for many years to come, it requires care just like our body and skin itself.
The first few weeks after getting a tattoo are crucial for it to heal properly.
Thanks to the use of specialized cosmetics for fresh tattoos available in our Gdansk studio. This process goes smoothly, and the skin at the site is properly moisturized and nourished. Dedicated preparations have all the most necessary ingredients to make the healed tattoo look beautiful. Healing process goes properly.
The following months are the time when you no longer need to devote most of your attention. The care of your tattoo. Using, for example, a nourishing tattoo butter will keep it in top condition, and preserve its saturated colors for a long time. A tattoo should be treated like the rest of our body – after all, it's already a part of it. Therefore, it should also be properly cared for in order to keep it in the best possible condition.
One of the most important issues when it comes to caring for a tattoo after it is done is to protect it from the sun's rays. Without too much exaggeration, they work in a similar way to laser tattoo removal. Producing results at a slower rate. Therefore, you should always remember to have sunscreen on hand on sunny days, and regularly protect your tattoo with it. There are also very convenient stick sunscreens on the market, which are great for tattoo care. Of course, you can also find dedicated sunscreen creams and sticks at GdanskSztorm Tattoo Studio.
How long to lubricate a fresh tattoo?
So remember – tattoo lubrication is an important thing not only during the healing process. Regular care will allow you to enjoy a beautiful design, unaffected by the tooth of time for many years.
ADAM ZIOTEWICZ
Check out HERE What's Up with Us and also watch and subscribe to our YOUTUBE channel.